Why Should Breeze Residences Be Your Dream Home?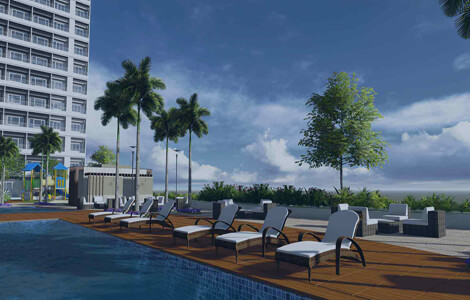 Breeze Residences is not just another condominium unit –it promises to be a haven for its residents. Spanning across a 6,028 square meter land area, the development will have 2,067 units across 38 floors. To accommodate its new tenants, the building provided for a parking area which is set to occupy the level 2 to 6. Parking will not be an issue when you live in this condo since there are 694 parking slots.
A commercial area will be on the building's ground floor. Given this setup, residents do not need to go far to grab their basic necessities. There will also be other retail establishments in the building which will provide added convenience to its residents. To make it easier to get to and from one's unit, there are seven elevators in Breeze Residences.
The building also boasts of top class amenities to make the place easier to love. There is a pool area where you can cool off and play with the kiddos. There's also a garden where you can enjoy some greenery without living the city, and a lounge area to simply hang out.

Focus on Safety
House hunting will not be complete if you do not assess the safety of a particular area. Even a home with top class amenities and facilities will not feel like on if you fear for your safety. Living in Breeze Residences will chase your fears away since it has round the clock security. As the home of thousands of residents, developers are concerned about putting the minds of its tenants at ease. CCTV cameras are also in place to monitor the movement of people in strategic areas in the building.
On top of that, Breeze Residences meets the basic safety standards. There are fire exits in the building, a functional alarm system, and fire detectors set up to warn residents and provide an escape route in the event of an emergency situation. Backup power is also available and you won't have to worry if there's a blackout in your area.

Along a Major Roadway
Living in a beautiful place is advantageous. However, in an urban location, the opportunity cost of choosing a nice view by compromising accessibility is just too high. Breeze Residences solves that problem for you –you can enjoy the beauty of Manila without cutting off your access to the city's major commercial districts. In fact, calling this your new home is a convenient decision since it is close to the country's main financial centers and government institutions.
Trailer, buses, and trucks are not allowed in certain parts of the boulevard. The component highways of Roxas Boulevard include AH26, the stretch from Padre Burgos to EDSA, and N61 which runs from EDSA to NAIA Road. While you can't exactly avoid traffic jams in the area since it is one of the country's busiest thoroughfares, you can save a lot of time. Makati is pretty close by and frequent flyers do not have to worry about waking up at the crack of dawn to make sure they don't miss their flights.
Living along a popular street has another benefit too –you do not have to worry about transportation. The interchange station for MRT and LRT Line 1 are within reach. The trains on both lines are connected to LRT Line 2 which runs from Santolan Station to Recto Station. City buses and other forms of public transportation are easy to find along Roxas Boulevard.
Bonus Tip: If you are on your way to the airport and you do not want to spend a lot of money on transportation, catch a ride to the MRT Taft Station. Just below the station, there's a terminal for Airport Loop buses, and a trip to NAIA 1, 2, 3, and 4. The fare is much lower than a taxi or an Uber ride.

Unique Entertainment Options
If you need some cheering up, the all-weather amusement park Star City is the perfect place to indulge your childish side. Whether it's a hot summer day or a rainy one, you can take your pick from one of the amazing rides in the park. Adrenaline junkies should not miss the Star Flyer, the only inverted roller coaster in the country.
For those who would rather explore the arts, there is always something new to discover at the Cultural Center of the Philippines. Museum hopping is one activity you should do while in the area. Upside Down Museum, Money Museum, National Museum, and San Agustin Museum are just some of the places to explore. World Trade Center, the venue for several travel expos, is also located close to Breeze Residences.

Bay Area Property
Manila's Bay area has transformed into a magnificent space and the home of premiere developments in the country. Snagging a spot in an upscale neighborhood is not just about prestige, it is also a practical decision. As the melting pot of the old and the new, the stretch of land along Roxas Boulevard is home to Manila's historical gems and commercial establishments with the latest technologies. Breeze Residences combines the best of both worlds. It is a haven which offers modern facilities without departing from the country's cultural roots.
With the recent developments and construction projects, the Bay Area is one busy strip full of cool places to hang out and eat. With the unparalleled view of Manila Bay's sunsets in the backdrop, it's not surprising why many people love to spend late afternoons by the area. A great view in the middle of an urban jungle is certainly a tempting offer.
The view, the neighborhood, and the access to the heart of Metro Manila are three irresistible things about living along Roxas Boulevard. Properties in the area are also bound to increase in value over time. After all more companies are flocking along the Mall of Asia complex and Pasay is close to the country's major international airport. Whether you are looking for a starter home or an urban investment, Breeze Residences is one promising piece of property.